What Are Image Extensions For Search Ads?
Google image extensions are one of the more recent additions to ad extensions that are available on the Google Ads platform. While most ad extensions are solely text based, image extensions relay on visual assets to expand your coverage on the SERP's.
With image extensions you can use a variety of images that show alongside your text based ads and make them more appealing. You can upload up to 20 diverse, high-quality images that are relevant to your keywords. Google recommends starting with at least 3 variations for a good balance between the effort it takes to create the image extension, and its performance.
live image extension on mobile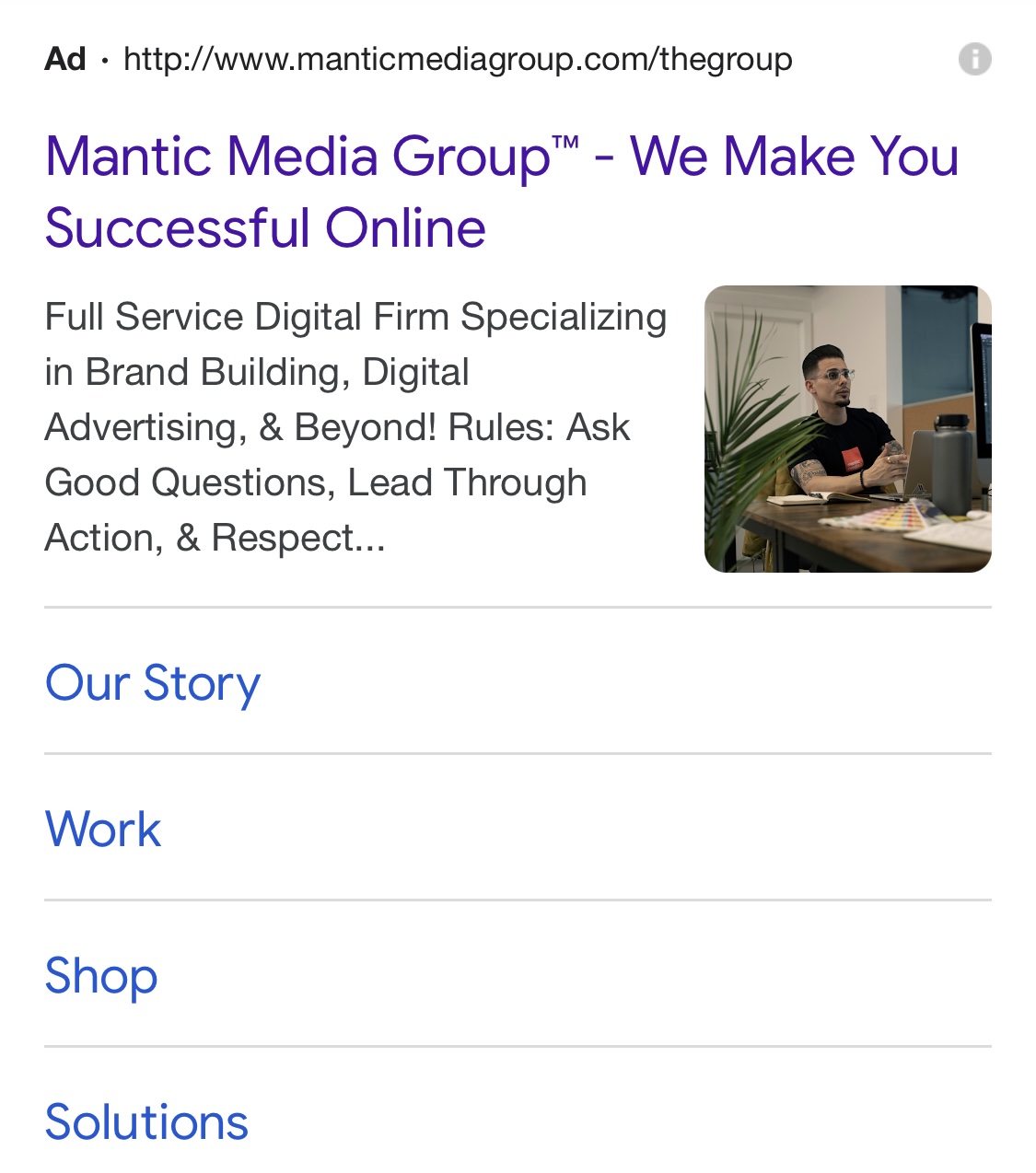 How Image Extensions Are Used
There are two different aspect ratios available for image extensions, square (1×1) and landscape (1.91×1). Google recommends prioritizing square images since they are required and using landscape images to enable more serving through experiments.
Not only do image extensions make your ad more appealing, they help take up a greater amount of space on the SERP and help direct the users eye; giving you an advantage over your competitors who may not be utilizing the feature.
Google has been working on image extensions for a while now, dating all the way back to 2013 when they first began rolling them out. However, they only recently became available to all advertisers.
At this time, image extensions are primarily served on mobile devices but Google is testing them on desktop as well.
Requirements:
To use image extensions, make sure you have:
A good history of policy compliance.
A Google Ads account in an eligible vertical or sub-vertical. Sensitive verticals or sub-verticals—such as sexual content, alcohol, and gambling—aren't eligible for image extensions.
A Google Ads account that has been open for more than 90 days.
A Google Ads account with active campaigns, and running Search campaigns so that there are active text ads.
What We Should Expect From Image Extensions
In addition to attracting the attention of potential customers more effectively, this feature should help increase mobile clickthrough rate (CTR) and the number of visitors to your website. It is also possible that these extensions will assist in improving ad quality and quality scores. By improving quality score, it's possible for ads to achieve a better ranking on search results and a lower cost per click.
Overall, image ad extensions are easy to setup and they can be very impactful for your ads. Take the time to make sure you use high-quality images that are relevant to your keywords and ads for improved relevancy and ultimately conversion rate.
What This Means For Mantic Media Partners
We always seek to stay ahead of the curve by adopting new beta's as they become available. As such, all of mantic media's client-partners currently have the recommended 3 image extensions in place on all relevant campaigns. Clients that want to have more customized images and/or more image variations are advised to reach out to [email protected] for more information and questions.
---
Andrew is passionate about growing and building brands. He is a seasoned digital marketing consultant, business strategist, and public speaker. He has been featured in numerous industry publications, generated millions-of-dollars in revenue for clients, and has had success growing businesses in a variety of industry verticals. When he isn't working on digital strategies, he can usually be found in the gym or painting.
All author posts